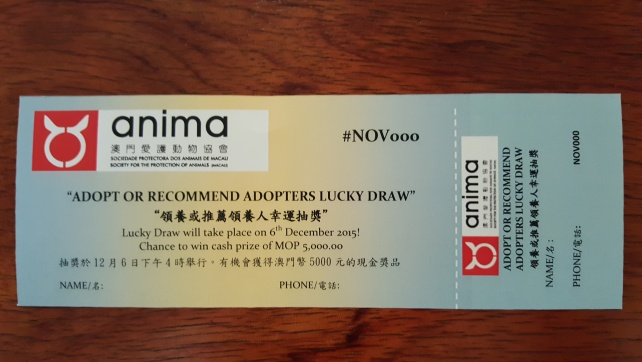 Anima – Why Adoption is our key piece!
Anima has rescued from January to September 2015,  286 animals, around 32 per month or one per day!
Now we want 50 adoptions per month to allow us to save more animals and return less to the sites!
In the same period only 113 animals were adopted.
Anima adopts the policy of No-Kill and No-Cage, policies that limit our capacity to increase the number of rescues or oblige us to be more selective in our rescue operations!
Last year we rescued 379 dogs and cats and we were able to make only 166 adoptions!
Please understand, without adoptions we can not save more animals!
There are people that only complain but do nothing when we need their help!
Just because we are an association that protects animals this doesn't mean necessarily that animals can be dumped to our shelter! We need to keep a proper balance between animals and space, otherwise we are saving animals that will be killed or kill others!
Animals living with us have a life with quality! Not as good as if you could adopt them! But they have in Anima play times and thousands of visitors per year!
Our toilets are now being used as pens for animals! The same happens in our vet area! We have no space for sick animals!
We have no more space! Please understand! Even in a real emergency we have to analyze case by case before any decision is taken!
Now we are actively asking you to help us finding adopters. And instead of making normal parties centering in collecting money and giving prizes for people that do not help us fomenting adoptions we are now concentrated only on those helping us adopting or finding adopters. We are giving to those helping us in adoptions the opportunity to be entitled to a prize, not necessarily giving a prize! Only two prizes may be given per month!
Technically a dog or a cat costs us more than 5,o00 patacas per year and occupies space that can be used by others. If they are properly adopted we may save others in risk!
Seems strange this campaign but it is also strange that many members of our community continue to buy instead of adopting and helping us to find adopters!
Thank you!
Please help us donating to
ANIMA – Sociedade Protectora dos Animais de Macau
to the following bank accounts:
Banco Nacional Ultramarino, MOP account number 9003472840
Bank of China, MOP account number 01-01-20-794318
ICBC, MOP account number 0119100200000960934
(ICBC jetco, please do not input the first three digits)
Tai Fung Bank, MOP account number 201-1-10530-7
Tai Fung Bank, HKD account number 101-1-12983-3
And inform us of your donation to anima@macau.ctm.net