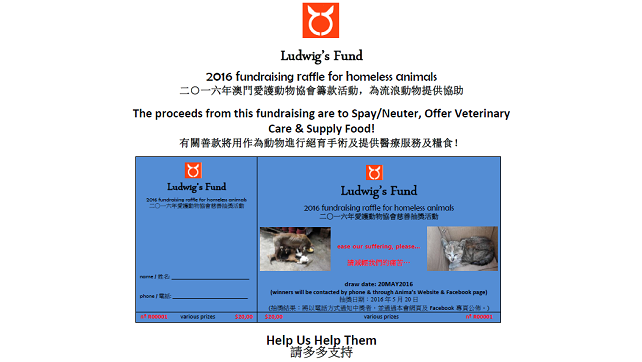 Anima – 2016 Fundraising for Homeless Animals Campaign!
From our Special Protection Program (SPP) Affairs Committee:
Anima's Committee for the Special Protection Programme (SPP) Affairs is to hold its annual "Fundraising for Homeless Animals" from 8th January to 20th May 2016.
This is our 9th fundraising and hopefully there will be many more to come!
The price of each lucky draw ticket is MOP 20.00
All money raised in this campaign will go toward Lugwig's Fund for helping homeless animals.
Tickets are available at Anima's shelter and Anima's office.
Anima Shelter: Estrada do Altinho de Ka Ho, Coloane
Tel (+853) 28703 224
Anima Office: Av. da Praia Grande, 619
Edif Comercial Si Toi, 14 floor, Apar. F&G
Tel (+853) 28323 396
Our aim is to get Funds so that we will be able to ease the suffering of all those in need such as to Spay/Neuter, Offer Veterinary Care and Supply Food! For this… we count on your generous support – HELP US HELP THEM!
The Stray Population is Getting Out Of Control due to various reasons, being one of them the countless construction sites where dogs are bred (supposedly to guard the compound but as a matter of fact… for the consumption of the workers); all those who are not eaten – the "leftovers" – are simply left on the sites once the construction is done!
One other reason is ABANDONMENT! Everyone wants a dog – a Status Symbol! Once bored of these Defenceless Living Beings for whatever reason and/or for no reason at all… they are simply DISCARDED like trash, independently of the money spent! Never have we seen so many abandoned animals, be it Dogs, Cats, Rabbits, Turtles, Birds, etc.… of whatever species and of any size and age!
The CULPRIT – the Local Authorities Lack of Interest in the approval of a Law for Animal Protection!
The CONSTRUCTION COMPANIES MUST TOO BE ACCOUNTABLE FOR THEIR ACTIONS – THEY MUST SPAY/NEUTER & TAKE PROPER CARE (Food, Medical Care, Licences, etc.) OF ANY ANIMAL ON THEIR SITES, even though the Law for Animal Protection Is NOT YET IN FORCE!!! Something Must Be Done and Should Be Done!
We must together show the ignorant and the heartless two legged animals that We Are the Voice of the Voiceless!
"A man is truly ethical only when he obeys the compulsion to help all life which he is able to assist, and shrinks from injuring anything that lives." (Albert Schweitzer, Nobel Peace Prize 1952)
please ease our suffering…
we too… feel hunger & pain…
PROTECT / RESCUE / ADOPT…
SAVE A PRECIOUS LIFE!
with gratitude,
Gina Rangel
Coordinator
Committee for SPP Affairs
Please help us donating to
ANIMA – Sociedade Protectora dos Animais de Macau
to the following bank accounts:
Banco Nacional Ultramarino, MOP account number 9003472840
Bank of China, MOP account number 01-01-20-794318
ICBC, MOP account number 0119100200000960934
(ICBC jetco, please do not input the first three digits)
Tai Fung Bank, MOP account number 201-1-10530-7
Tai Fung Bank, HKD account number 101-1-12983-3
And inform us of your donation to anima@macau.ctm.net