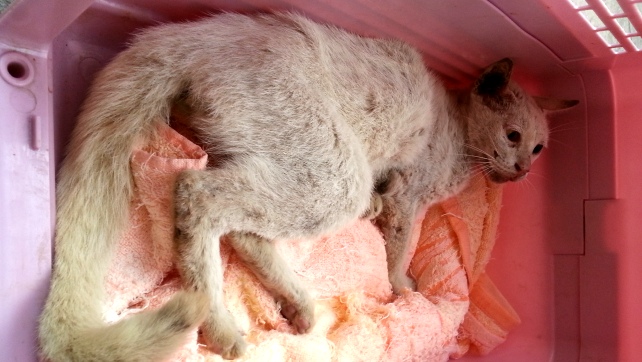 Anima–December Sad News (C963-Wilma)!
<23-12-2017>
C963-Wilma (F), was rescued by Anima on 6th June 2015, after a call from Mr. Lai reporting that a cat entered in his building at Rua de Camilo Pessanha and was not able to walk properly.
C963-Wilma was taken immediately to a clinic for an X-Rays and she stayed there overnight.
She had neurological problem which made her couldn't stand and walk.
She needed help from time to time to urinate and defecate as well.
C963-Wilma was found having difficulty in eating and swallowed the food a week ago.
She was sent to a clinic and stayed there for heat therapy and closed observation.
She also needed warmer sheet and someone to flip her sides every hour to keep her warm.
This is not a life for her!
After discussion with the vet and approved by two of our board members, we made a sad decision to put her sleep.
Last decision belongs always to the President of Anima, and it is not an easy decision!
R.I.P. my friend!
Please help us to help them!
Never Abandon your pet! Abandoning a pet is abandoning a family member!
Please help us donating to 
ANIMA – Sociedade Protectora dos Animais de Macau
to the following bank accounts:
Banco Nacional Ultramarino, MOP account number 9003472840
Bank of China, MOP account number 01-01-20-794318
ICBC, MOP account number 0119100200000960934
(ICBC jetco, please do not input the first three digits)
Tai Fung Bank, MOP account number 201-1-10530-7
Tai Fung Bank, HKD account number 101-1-12983-3
Paypal account: albano@animamacau.org 
and inform us of your donation to anima@macau.ctm.net and info@animamacau.org