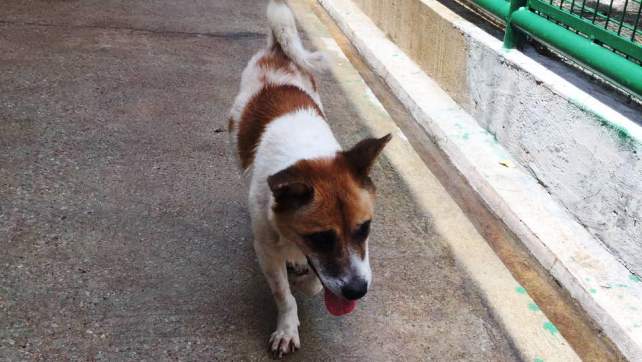 Anima-June Transfer to Coloane Kennel (1875-Granny)!
<09-06-2017>
Granny was delivered to Coloane Kennel, from Macau Kennel, on 9th June 2017!
1875-Granny (F), was rescued by Anima on the 2nd May 2017, aging around nine years old, after we saw that she was wandering outside the Water Company near Anima.
No microchip was found.
She had skin problems and hair loss all over the body.
1875-Granny was temporarily delivered to Macau Kennel as we had no space for her, but we have decided that we will collect her as soon as we were capable to reorganize our space, which was not easy!
She was for sure abandoned and that area was very dangerous for any dog being free, as Altinho de Ka Ho is a serious killer road!
As we were completely full we were authorized by IACM to move her to Coloane Kennel where she will be under Anima supervision!
Thanks IACM!
IACM and Anima are cooperating in order to save as many animals as possible!

Please help us to help them!
Never Abandon your pets! Abandoning a pet should be a crime!

Please help us donating to
ANIMA – Sociedade Protectora dos Animais de Macau
to the following bank accounts:
Banco Nacional Ultramarino, MOP account number 9003472840
Bank of China, MOP account number 01-01-20-794318
ICBC, MOP account number 0119100200000960934
(ICBC jetco, please do not input the first three digits)
Tai Fung Bank, MOP account number 201-1-10530-7
Tai Fung Bank, HKD account number 101-1-12983-3
and inform us of your donation to anima@macau.ctm.net and info@animamacau.org