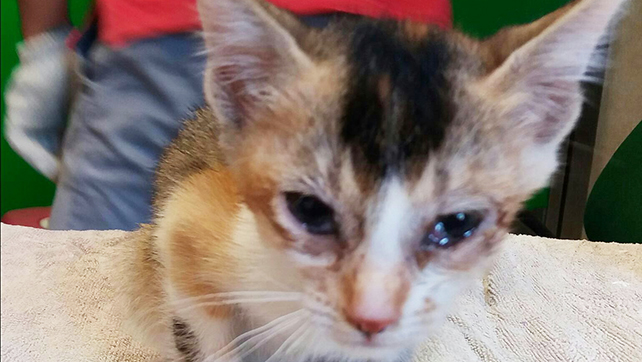 Anima-November Sad News (C1768-Leicester)!
<25-11-2017>
C1762-Everton (M), C1763-Brigton (M), C1764-Chelsea (F), C1765-Swansea (F), C1766-Crystal (F), C1767-Norwich (M), C1768-Leicester (F), C1769-Manchester (M), C1770-Burnley (F), C1771-Arsenal (M), C1772-Liverpool (M) and C1773-Tottenham (F), were rescued by Anima on 16th November 2017, after a call from IACM reporting that they don't have enough space for the cats.
They were all vaccinated by IACM.
C1768-Leicester had fever, gingivitis, nasal discharge and ocular discharge at that time.
Yesterday he was found very weak and as so was sent to a clinic.
He needed force feeding and dripping.
Unfortunately he passed away in the clinic.
R.I.P. my friend!

Please help us to help them!
Never Abandon your pet! Abandoning a pet is abandoning a family member!

Please help us donating to
ANIMA – Sociedade Protectora dos Animais de Macau
to the following bank accounts:
Banco Nacional Ultramarino, MOP account number 9003472840
Bank of China, MOP account number 01-01-20-794318
ICBC, MOP account number 0119100200000960934
(ICBC jetco, please do not input the first three digits)
Tai Fung Bank, MOP account number 201-1-10530-7
Tai Fung Bank, HKD account number 101-1-12983-3
Paypal account: albano@animamacau.org
and inform us of your donation to anima@macau.ctm.net and info@animamacau.org