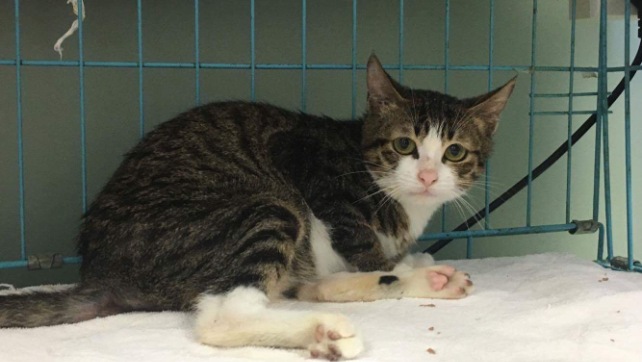 Anima-September Sad News (C1482-Wan Wan)!
<27-09-2017>
C1482-Wan Wan (F), around six months old at that time, was rescued by Anima on 7th April 2017, after a call from Mr. Oscar, from Anyhelp, informing that they have rescued a cat on 16th March near Macau Tower.
C1482-Wan Wan was hit by a car and was sent to a clinic for treatment.
The pelvis bone was fractured and there was a spinal cord injury causing the lower part of body to be paralyzed.
We were asked to help, keeping C1482-Wan Wan.
She was checked by out vet and de-wormed.
On 16th September she was sent to clinic for consultation.
She was diagnosed FIP positive.
Unfortunately she passed away last night.
R.I.P. my friend!
Please help us to help them!
Never Abandon your pet! Abandoning a pet is abandoning a family member!

Please help us donating to
ANIMA – Sociedade Protectora dos Animais de Macau
to the following bank accounts:
Banco Nacional Ultramarino, MOP account number 9003472840
Bank of China, MOP account number 01-01-20-794318
ICBC, MOP account number 0119100200000960934
(ICBC jetco, please do not input the first three digits)
Tai Fung Bank, MOP account number 201-1-10530-7
Tai Fung Bank, HKD account number 101-1-12983-3
and inform us of your donation to anima@macau.ctm.net and info@animamacau.org