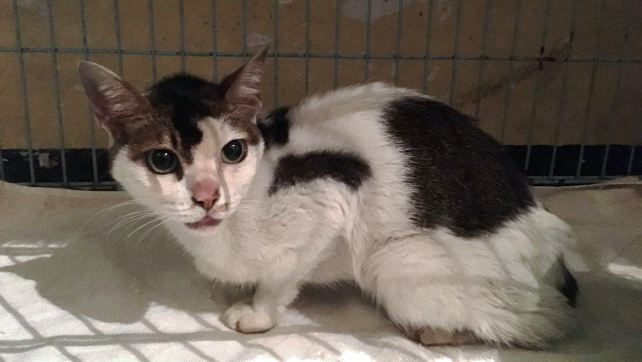 Anima–June Rescue (C1600-Fern)!
<16-06-2017>

Today we reached officially 1600 cats rescued by us!
Officially, because there was a period of around two years time that few information was left to the organization.
Now everything is properly planned, organized, leader and controlled!
All daily occurrences are properly registered!
This year Anima will finish the conversion all its files into e-files and will contribute more effectively to a green planet!
C1600-Fern (F), around one year old, was rescued by Anima on 16th June 2017, after a call from Ms. Lei, informing that she caught a cat in Av. Panorâmica do Lago Sai Van.
C1600-Fern was very skinny and was in the middle of the road.
Ms. Lei manage to catch C1600-Fern and put it in her bag.
When our rescue team arrived they had to recapture C1600-Fern as the bag had no zipper.
She was checked by vet, dewormed and sent to Cats' Paradise for quarantine.
Thanks Ms. Lei!
Please help us to help them!
Never Abandon your pets! Abandoning a pet should be a crime!

Please help us donating to
ANIMA – Sociedade Protectora dos Animais de Macau
to the following bank accounts:
Banco Nacional Ultramarino, MOP account number 9003472840
Bank of China, MOP account number 01-01-20-794318
ICBC, MOP account number 0119100200000960934
(ICBC jetco, please do not input the first three digits)
Tai Fung Bank, MOP account number 201-1-10530-7
Tai Fung Bank, HKD account number 101-1-12983-3
and inform us of your donation to anima@macau.ctm.net and info@animamacau.org